Blog
Guesthouse TOKIWA 1月3日  january 3rd.
2014.1.3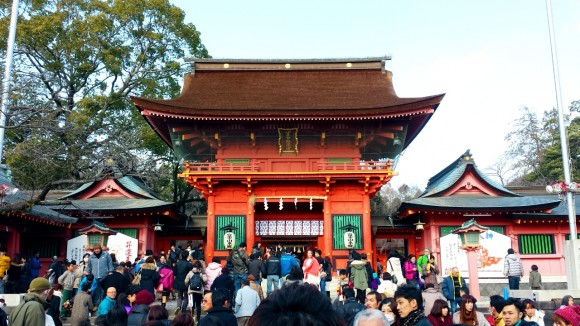 初詣でございます。富士宮浅間大社でございます。
富士宮市は富士山本宮浅間大社の門前町として古くから富士登山の起点の街でございます。浅間大社は富士山を神体山と仰ぎ、コノハナノサクヤヒメノミコトを御祭神に奉り全国1,300社の浅間大社の総本宮でございます。歴史は古く1200年の歴史がございます。詳しくは日を改めて更新します。
ゲストハウスときわは、そんな歴史と文化と神々の街、富士宮にございます。まさしくパワースポットの街と富士山、わたくしも、新年早々パワーを頂いてきました。
Mount Fuji is not only the highest mountain in Japan, but is also beautiful in its quietude.  Indeed, its magnificent form is unparalleled anywhere in the world.  Since ancient times, Japanese have revered this sacred mountain, which wordlessly teaches us many things, cultivating pure and noble hearts. To the Japanese, Fuji's appearance is truly ideal.  Encompassing the power of both heaven and earth, its beautiful purity of form symbolizes the spirit of peace-loving Japanese.  This sacred mountain warmly welcomes all who visit.  Regardless of nationality, no one is not moved by the sacredness of this mountain.  Whoever gazes upon this holy peak senses something greater than humankind, and no one fails to be struck by its magnificence.  Indeed, Fuji is not merely a mountain, but is a sublime being that exceeds human comprehension.  Is it not truly a god?  Long ago, the poets of the Manyoshu (a poetry anthology compiled in the eighth century) called Fuji a god, and during the many centuries between then and today, Japanese have worshipped this manifestation of the divine, a source of both strength and salvation.  The main deity worshipped at Fujisan Hongu Sengen shrine is the exquisitely named "Konohana-no-sakuyahime-no-mikoto."  Kind and tender-hearted, she is revered as a model for Japanese women.  Our hearts pure and kind, we should forever live in harmony  with sacred Fuji, and with a spirit as steadfast as this mountain, advance along the path of righteousness.  To fulfill this wish, we should purify ourselves body and soul and pray before the great god of Fuji.
ゲストハウスときわは、富士山と街と人々を繋ぐ格安宿。富士宮の街と富士山と共に皆様をおまちしております。
GUESTHOUSE TOKIWA  宿主 DAISUKE